The Creation of the Estate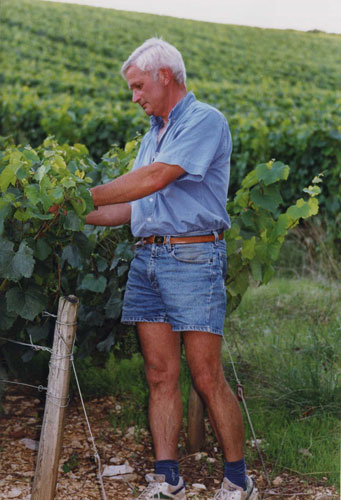 A native of Touraine, Jean-Claude Courtault arrived at Lignorelles in 1974 to work as Vineyard Manager for one of the village's wine estates.
In 1984, JC Courtault seized the chance to buy 1.5 hectares of 4 year old vines in the Chablis area. Next, he rented a plot of land in the Chablis appellation area, which he then planted up with the help of his wife, Marie-Chantal.
And so the Estate Jean-Claude Courtault came into being.
Awards
JC Courtault enlarged and worked his vineyard over time, whilst still fulfilling his duties as Vineyard Manager.
He began producing wine, and in 1987, the process of bottling and marketing started. That year's wine was rewarded with a gold medal at the "Concours Général des Vins de Paris" competition.
This medal was just the first of many awards and prizes that have punctuated JC Courtault's career, a mark of the quality and consistency of his wines.
The 1994 edition of the Guide Hachette gave something of a commercial boost to the Estate Jean-Claude Courtault, after it awarded the 1992 Chablis a favourite buy distinction.
The development of the Estate

In 1995, with the estate boasting a dozen hectares of Chablis and Petit Chablis, Jean-Claude Courtault decided to devote himself to wine-growing on a full-time basis. He built a wine storehouse that included all the features necessary for optimal operating efficiency.
The estate has continued to develop its vineyard and now boasts a total of 22 hectares in Chablis wines area and Bourgogne Epineuil.
2008 : new generation
Stéphanie, daughter of JC and MC Courtault, and her husband, Vincent Michelet joins JC and MC Courtault in 2008 to work with them.
The same year, they also created their own estate Domaine Stéphanie et Vincent Michelet, to produce wine from their own vines of Petit Chablis. And in 2010, they got the chance to buy an old vine of Chablis in Lignorelles.
This estate now have 6 ha of Petit Chablis and 1 ha of Chablis.
2019 : transmission
In 2019, JC and MC Courtault transmitted Domaine JC Courtault to Stéphanie and Vincent Michelet.
It won't really change the organisation as the two domains have always worked in synergy and complement each other. The two propose different wines by the location of the vines, their terroir (soil) and by the age of vines.
Now Stéphanie and Vincent lead the two domains. It is their turn to do as well as Stéphanie's parents, with new projects and developing their own identity, the identity of Domaines Courtault & Michelet