The grape harvest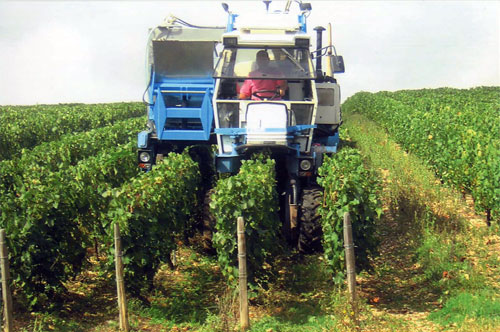 Grape Harvest generally begins at the end of September and lasts between 12 to 18 days, depending on the year.
Our main aim is to harvest the grapes at their optimal ripeness. This allows us to obtain a higher sugar content in the grapes whilst still maintaining pH and acidity at the levels needed to make a well-balanced wine.
Grapes are harvested by machine.
They are then quickly pressed to reduce the risk of oxidation.
Pressing is done using "Buscher" type pneumatic wine presses. Loading is done by conveyor belt in order to limit damage to the grapes.
Fermentation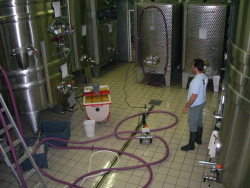 After one day's cold temperature settling to get rid of impurities, the grape must is fermented in stainless steel vats. Temperatures are regulated during the process of fermentation so as not to exceed 20°C.
This temperature control is maintained by automatic thermoregulation equipment. Fermentation takes place over a period of 8 to 10 days on average.
The next stage is malolactic fermentation, carried out during the two month period after harvesting. This second fermentation, carried out by lactic acid bacteria, reduces the acidity of the wine and helps adds extra complexity.
Maturing of wine
Next, the wine is aged on fine sediment until Spring.
Sediment refers to the deposits of yeast and bacteria that have remained in the wine. Ageing wine together with the lees brings added structure and substance; also known as ropy. In some ways, you could say that this is the process of the wine maturing.
Bottling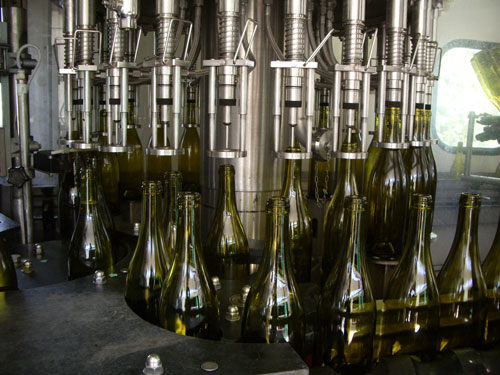 The wine is prepared for bottling.
Following racking (separation of the wine from the sediment), the wine is fined if necessary and cold stabilized. Fining, carried out using bentonite (a kind of clay), allows for the removal of proteins, while cold stabilization gets rid of tartrates - these two elements - naturally present in the wine - could result in unwanted precipitation once the wine has been bottled.
The wine is filtered just before bottling.
This takes place for some of the wine during the Spring while for the rest, it is carried out in July.
In 2009, we invested in a bottling machine. This is fitted with a rinsing mechanism and a nitrogen blanketing system, and operates at a healthy rate of 1,800 bottles per hour, ensuring the work we carry out is of the highest quality.
Once bottled, the wine is placed in a storage cellar at a stable temperature of 10 to 12°C, whilst it awaits labelling and dispatch, depending on customer demand.